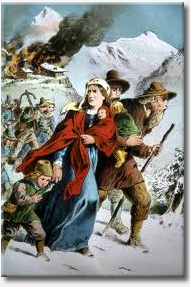 The Traveler And His Echo.
TRAV. I'm in a wilderness, I know;
Will God's word teach me where to go?
ECHO. Where to go.
TRAV. I'm poor and weak, to sin a slave;
Must die unless God's Son will save.
ECHO. God's Son will save.
TRAV. If I would reach that heavenly land,
Must I obey all God's commands?
ECHO. All God's commands.
TRAV. Though youthful friends may turn away,
Shall I observe the seventh day?
ECHO. The seventh day.
TRAV. But trials are in the Christian's way,
Can I overcome if I watch and pray?
ECHO. Watch and pray.
TRAV. Should an enemy hate, or treat me ill,
Must I treat him well and love him still?
ECHO. Love him still.
TRAV. Shall I cast on Jesus all my care,
And friends and foes embrace in prayer?
ECHO. Embrace in prayer.
TRAV. Will good works for my sins atone?
Or, must I trust Christ's blood alone?
ECHO. Christ's blood alone.
TRAV. When the great atonement day is done,
Will He come forth to bless his own?
ECHO. To bless his own.
TRAV. Will his saints be glad when their sorrows are o'er,
And shout alleluia as never before?
ECHO. As never before.
TRAV. Echo! your lessons please me well;
I'll travel on, so farewell, farewell.
ECHO. Farewell, farewell.
A. P. P.
Battle Creek, Mich.
Presence of God.
LIVE in the sight of God.
This is what heaven is.