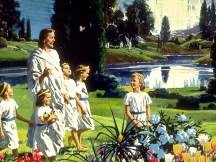 Be There
"The King of that country, he is fair,
He's the joy and light of the place!
In his beauty we shall behold him there,
And bask in his smiling face.
We'll be there,
we'll be there,
in a little while,
We'll join the pure and the blest;
We'll have the palm,
the robe, the crown,
And forever be at rest."
Home, My home,
my own dear home,
It is a happy place,
Where smiles of love are brightening
Each dear familiar face
Where parents' arms enfold me
In fond embraces pressed,
And daily, nightly blessings,
Upon the household rest.
Our morning salutations,
How gladsomely they sound!
And kind "good nights" at evening,
Like curtains close us round.
The bird seeks not to wander
From its own quiet nest,
But deems it of all places
The dearest and the best.
Home is my nest,
where round me
Soft sheltering wings are spread
And peace, and joy,
and gladness,
With shade and sunlight shed.
Oh, may I bring no shadow
Of sorrow or of care,
To dim the open brightness
Of happy faces there.
YI