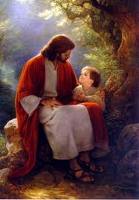 Seek The Saviour.
LITTLE children, seek the Saviour,
Seek, O seek him while you may;
He is waiting to embrace you
Will you grieve his love away?
Full of love and tender pity,
He is waiting at your door:
Will you give him free admittance,
To your heart? he asks no more.
H. N. SPENCER.