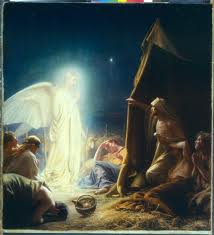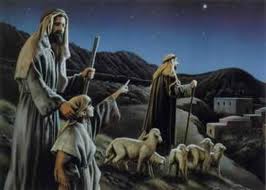 The Shepherds Of Bethlehem
Little lambs slept by their mothers,
All under the silver sky,
And they dreamed of the lilies that grew in the grass
And the waters that glided by.
By the stars on God's great dial,
It was midnight holy and calm;
The shepherds sat on the gray old rocks,
And chanted this ancient psalm:
"In every land, Jehovah,
thy name is excellent!
The babes and sucklings praise Thee,
and the starry firmament!
When I behold thy heavens,
the work thy hands have wrought,
Lord, what is man the sinful,
for whom thou takest thought?"
And then there shone o'er the shepherds
A splendor of softened light,
As though the glow of a hundred moons
Had suddenly filled the night:
For wearing a brightness that dimmed the stars,
Came an angel down the height!
"Fear not," he said, "but rejoice instead!"
And his voice like a flute-note fell;
"I bring good tidings of greatest joy
For you and the world as well!"
"The Lord of glory has come to men!"
And his voice grew high and clear
"For the Babe is born in Bethlehem,
And the Christ that should appear!"
Then all at once with the angel
Was a marvelous company,
The sky was full of a shining host
That chanted an anthem high:
"Glory to God in the highest!"
Were the words they heard them say,
"Good-will toward men and peace on earth,
And glory to God always!"
And still as they floated higher
Till they vanished far up in the blue,
The burden of words that the shepherds caught
Was "Glory to God," anew!
So they passed away to Heaven,
And the calm stars shone on high,
And still the little lambs lay asleep
And the waters glided by.
YI