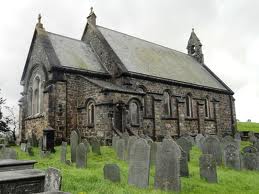 AN OLD COUNTRY CHURCH.
I STOPPED to rest in the grass-grown yard
To gather the autumn blooms,
And lazily dream on the velvet sward
That mantles the sunken tombs.
The raspberry briars obscure the words
Affection has carved on the stone;
With ripening blossoms and bees and birds,
Forgotten, they sleep alone.
And all the men who wore this path
Or the threshold of yonder door,
To hear of a Father's love or wrath,
Are found on the earth no more;
And spiders lazily spin their threads
Secure from intruding feet,
While autumn its leaves o'er the pulpit spreads,
And the listener's sunken seat.
I close my eyes, and I seem to hear
Some sacred old hymn arise,
Or the pastor inviting, in accents clear,
To "mansions above the skies;"
Or I hear the bearers, with reverent tread,
Their charge to the chance I bear,
And their murmurous sigh for the honored dead
Floats out on the autumn air.
Then the call of the robin dispels my dreams;
So, rising with bated breath,
I mark where the sun through the casement gleams,
As life in the midst of death.
"He careth for sparrows;" I thank thee, Lord,
For a temple not made with hands,
And a love that unto the least affords
A gift from thy outstretched hands.