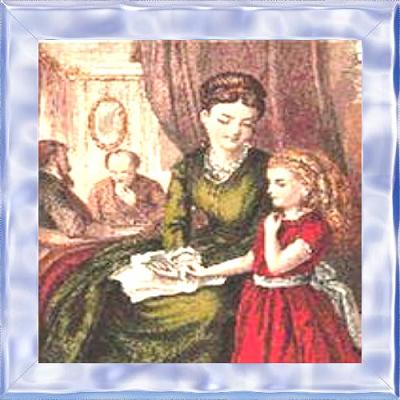 THE OTHER SIDE.
"THE words are good," I said, "I cannot doubt;"
I took my scissors then to cut them out;
My darling seized my hand. "Take care," she cried,
"There is a picture on the other side."
I fell to musing. We are too intent
On gaining that on which our minds are bent;
We choose, then fling the fragments far and wide,
But spoil the picture on the other side!
A prize is offered; others seek it too,
But on we press, with only self in view;
We gain our point, and pause well satisfied,
But ah! The picture on the other side!
On this, a sound of revelry we hear;
On that, a wail of mourning strikes the ear:
On this, a carriage stands with groom and bride;
A hearse is waiting on the other side.
We call it trash, we tread it roughly down,
The tiling which others might have deemed a crown;
An infant's eye, anointed, sees the gold,
Where we, world-blinded, only brass behold.
We pluck a weed, and fling it to the breeze;
A flower of fairest hue another sees:
We strike a chord with careless smile and jest,
And break a heartstring in another's breast.
Tread soft and softer still as on you go,
With eyes washed clear in Love's anointing glow;
Life's page well finished, turn it, satisfied,
And lo! Heaven's picture on the other side.
Select
THOUGHTS TO CLOSE THE DAY.
WHAT know I more that's worth the knowing?
What have I done that's worth the doing?
What have I sought that I should shun?
What duty have I left undone?
Or into what new follies run?