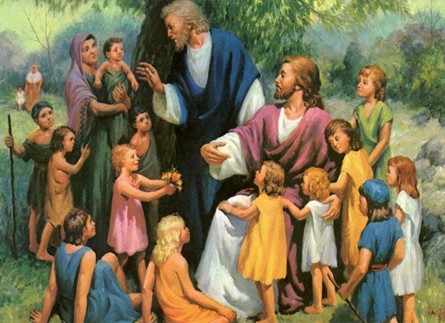 My Picture
PICTURE.
I HAVE seen a lovely picture,
'T was as sweet as sweet could be;
'T was a group of little children
Gathered close around the knee
Of a kingly, yet a gentle
And a loving-looking man;
They were pressing all about him,
Just as little children can.
They were leaning on his shoulder,
They were clasped within his arms,
As if they knew his tender love
Would shelter them from harm.
They were sitting on his knees, and
Some were kneeling at his feet,
And some were holding fast his robe
With their baby-fingers sweet.
And they all were gazing toward him,
And listening to his word,
As if they loved him for his love,
And owned him for their Lord;
While his kind lips seemed to whisper
That for every single one
Of those precious, happy children
His own life he would lay down.
For the man was Christ our Saviour;
Little children loved him well,
When he came to earth from Heaven
In their home for years to dwell.
He had breathed a blessing on them,
Bright as any gift could be,
When he said, "Let not the children
Ever be held back from me."
From his home above in Heaven
Still the sweet old words ring down,
Telling all the little children
They may claim him for their own.
With his blessing will he welcome
Every dear uplifted face,
Saying, "Suffer little children
To come unto me for grace."
JULIA A. MATTHWS,
in Child's Paper.